3-AXIS "REMOTE PAN" VERTICAL GIMBAL MOUNT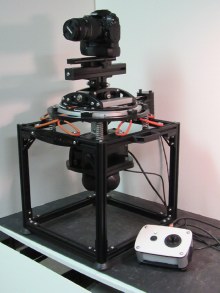 3XP-VGM-1515 with KS-8X8 GYRO
Gyromounts.com 3-Axis "Remote Pan" Vertical Gimbal Mounts (3X-VGM) use a Kenyon Laboratories

KS-8X8, KS-10x10, or KS-12X12 Gyro to provide pure gyro-stabilization of the camera

and still allow free movement in the pitch and roll axis.

A 2-stage "Dynamic Suspension System" is used to provide the best in
Gyroscopic Vibration Isolation and Shock Absorption.
3X-VGM Mounts support the weight of the gyro and camera on a vertically balanced 3-axis gimbal
while providing joystick remote control pan function to the operator.
The operator never touches the camera as not to transmit unwanted motion to the balanced gimbal.
It can be used on moving or rocking ground, sea, or air vehicles but is especially well suited as a
ship board "Antenna Mount".




3XP-VGM-1010

INCLUDES:

CAMERA MOUNTING BRACKET,

REUSABLE SHIPPING CRATE,

TOOL KIT, USERS MANUAL

------------------------------------

$5,000 + GYRO




STABILIZATION CAPACITY:

6 -12 POUNDS WITH KS-8X8 GYRO




3XP-VGM-1515

INCLUDES:

CAMERA MOUNTING BRACKET,

REUSABLE SHIPPING CRATE,

TOOL KIT, USERS MANUAL

------------------------------------

$5,600 + GYRO




STABILIZATION CAPACITY:

15 POUNDS WITH KS-10X10 GYRO

25 POUNDS WITH KS-12X12 GYRO

3-AXIS VERTICAL GIMBAL MOUNT DEMO VIDEOS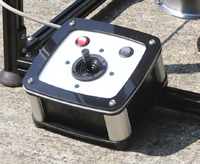 3XP-VGM
REMOTE CONTROL CONSOLE

STABILIZATION PLATFORM FOR MASS MARKET PTZ CAMERAS

AND DIRECTIONAL ANTENNAS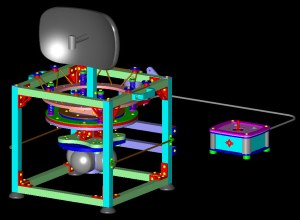 3XP-VGM-1010 with KS-8X8 GYRO
(directional antenna stabilization)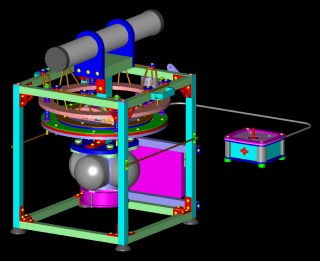 3XP-VGM-(1515) with KS-12X12 GYRO
(sensor tube stabilization)
GYROMOUNTS.COM