"PORTABLE" MOBILE GIMBAL MOUNTS

3-Axis Gimbal for Kenyon X-series gyros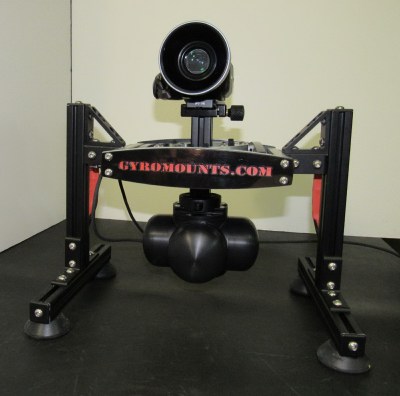 MGM-4X4 WITH KS-4X4 GYRO

Gyromounts.com Mobile Gimbal Mounts use Kenyon Laboratories X-Series Gyros to provide a "portable" gyro-stabilized
camera mounting system that can be used to isolate the camera from vehicle vibration, shock, and movement.
A 3-axis gyro-stabilized gimbal is used to balance the camera and stabilize the pitch, roll, and yaw axis while a
3-rd axis suspension system allows the gyro and camera to rotate in the yaw axis
for increased pan rates required by moving vehicle applications.
The MSM unit can be straped down, hand-held, or used as a hanging mount.
MGM-4X4

INCLUDES:
CAMERA MOUNTING BRACKET,
REUSABLE SHIPPING CRATE,
TOOL KIT, USERS MANUAL
------------------------------------
$2,700 + GYRO
STABILIZATION CAPACITY:
1 - 6 POUNDS WITH KS-4X4 GYRO

MGM-4X4 BOAT WAKE DEMO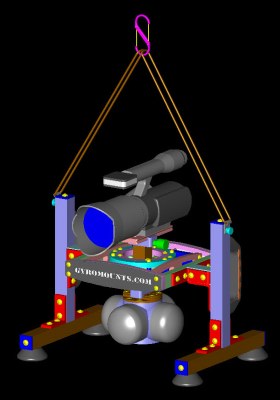 MGM-4X4 WITH KS-4X4 GYRO
"Portable" hanging mount (hardware included).
EXO-SKELETON HANGING MOUNT FRAME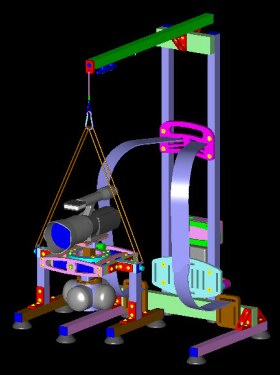 Holds battery and gyro inverter.
Disassembles for easy transport and storage.
EXO-MT

INCLUDES:
SHOULDER STRAPS,
REUSABLE SHIPPING CRATE,
TOOL KIT, USERS MANUAL
------------------------------------
$1,100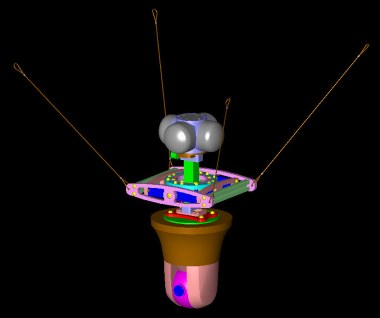 MOBILE GIMBAL MOUNT
KS-4X4 GYRO
SUSPENDED GIMBAL CONFIGURATION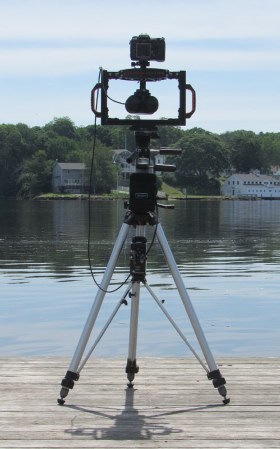 TRIPOD GIMBAL MOUNT
KS-4X4 GYRO
GYROMOUNTS.COM